(If experiencing problems with IE7, please try Firefox, Opera or Safari)
To Robert Gifford
Executive Director, The Parliamentary Advisory Council for Transport Safety
Dear Rob
Failing a response, I propose to draw this one-sided correspondence to a close. I believe that I have established:
a. that the claim that seat belts have saved 60000 lives since the implementation of the seat belt law is nonsense, and
b. that it is your (PACTS') view that a measure that could be demonstrated to save the lives of motorists would be OK so long as the number of vulnerable road users killed as a result is smaller. I pressed you on this point in open letters 2 and 3 and you have not, as yet, denied it.
When you sent me the paper by Richards et al that I discussed in my third open letter you said the paper "highlights the difference between the number of lives saved overall through the use of seatbelts and the number saved through the implementation of legislation in 1983." I take it from this that you accept these "highlights" as validation of the claim still on your website that seat belts have saved 60000 lives since 1983.
In my third open letter I said that with such a sudden large increase in the wearing of seat belts (140%) one should see a sudden large downward step in the established downward trend. I asked "Where is it?" I have found it! I was looking in the wrong place.
In the graph below I have reconstructed the analysis of Richards et al that highlights the difference between the number of lives "saved" overall through the use of seatbelts and the number "saved" through the implementation of legislation in 1983.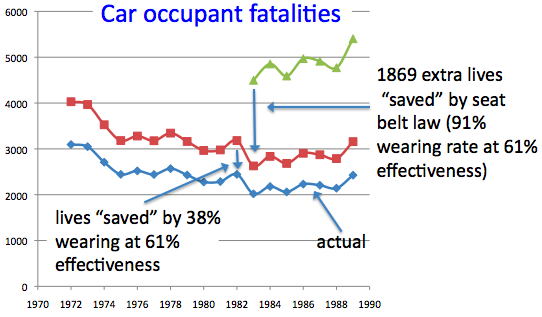 To accept the claim in the paper by Richards et al that seat belts saved 2500 lives in 1983 you have to believe that 1869 extra lives were saved by seat belts compared to the year before. Since you cannot see such a dramatic effect in the graph of actual fatalities you are forced to believe that in 1983, coinciding with the implementation of the law, there was some dramatic increase in danger on the roads that, but for the seat belt law, would have killed 1869 more car occupants. Even people who can believe six impossible things before breakfast would find that a bit of a stretch.
Why am I doing this? Why am I trying to resolve this issue via open letters on my website? I have no personal desire to cause embarrassment, but earlier attempts to sort this out via personal emails have run into the sand.
In a parliamentary debate in 1979 William Rodgers, then Secretary of State for Transport, claimed "On the best available evidence of accidents in this country – evidence which has not been seriously contested – compulsion could save up to 1000 lives a year" (Hansard, March 22, 1979). This clearly did not happen, but the myth has grown and PACTS has been complicit in this growth.
Consider the following more recent parliamentary exchange in a debate about compulsory cycle helmets:
Mr. Kevan Jones (North Durham) (Lab): There are some who would accuse my hon. Friend of extending the nanny state. Does he agree that the same arguments were used in the 1960s and 70s against the wearing of seat belts, and that the legislation passed in that respect has reduced the number of deaths and the personal tragedy experienced by families whose members would otherwise have died on the roads?
Mr. Martlew: My hon. Friend is perfectly right. We have always seen a knee-jerk reaction against such measures, whether on the wearing of seat belts or preventing drink-driving, but, after a while, such things become common sense and we wonder why we did not do them before. (Hansard 23 Apr 2004 : Column 529)
Your website proclaims that PACTS was set up "as part of the fight to get mandatory seatbelt wearing turned into legislation." The "success" of the seat belt law might fairly be described as PACTS' foundation myth. It is not a bit of harmless exaggeration.
You have accepted that the law caused an "appreciable" number of extra deaths among pedestrians and cyclists. Further, as we have seen above, the myth is now being invoked to promote another myth about the efficacy of cycle helmet legislation. So profoundly embedded in the parliamentary mind is the "success" of their seat belt law that no one saw reason to question the assertion of Mr Jones. A compulsory helmet law would significantly impair efforts to promote cycling and kill the London cycle hire scheme; no potential user of the scheme would want to put on a sweaty helmet that did not fit, and no scheme has been proposed to provide clean well-fitting helmets for spontaneous users. For a comprehensive over-view of the cycle helmet law debate please visit nohelmetlaw.org.uk.